I can't praise this film long enough!The Shining is, without doubt, one of Stanley Kubrick's undisputed masterpieces and a true classic in horror cinema. It is a film that, over the course of the years, has managed to scare the living hell out of its audiences (and still does). The film is an adaptation of Stepehen King's original novel, written in the late '70s, and although the film is not very loyal to the book, it still stands as a thing of its own.Right from the beginning, as we contemplate the car going to the hotel from those stunning aerial shots, deeply inside us we know that something in the film, somehow, sometime is going to go wrong. As we obtain that severe warning, an almost inaudible voice gently whispers to us 'sit tight', a sense of unexpectedness invades us all, and it is that very same feeling that makes our hair stand on end throughout out the entire movie. The plot is simple: Jack Torrance (Jack Nicholson) becomes the caretaker of the Overlook Hotel in up in the secluded mountains of Colorado. Jack, being a family man, takes his wife (Shelley Duvall) and son (Danny Lloyd) to the hotel to keep him company throughout the long, isolated nights. During their stay, strange things occur when Jack's son Danny sees gruesome images powered by a force called 'the shining' and Jack is heavily affected by this. Along with writer's block and the demons of the hotel haunting him, Jack has a complete mental breakdown and the situation takes a sinister turn for the worse.The film, unlike many horror-oriented films nowadays, doesn't only rely on stomach-churning and gory images (which it does contain, anyway) but on the incredibly scary music based on the works of Béla Bartók and on the excellent cinematography (the Steadicam is superbly used, giving us a sense of ever-following evil), as well. The terrifying mood and atmosphere of the film is carefully and masterfully woven by Kubrick, who clearly knows how to really make a horror movie.Jack Nicholson's powerful performance as the mad father and husband is as over the top as it is brilliant. Shelley Duvall, who plays the worrying wife who tries to help her son, is also a stand out; she shows a kind of trembling fear in many scenes and is able to display weakness and vulnerability in a very convincing way. Undoubtedly, The Shining is full of memorable moments (the elevator scene or the 'Heeeeeere's Johnny' one-liner for instance) and, simply put, it's flawlessly brilliant.Stanley Kubrick's direction is pure excellence, giving the whole film a cold and atmospheric look, thus creating an unbearable sense of paranoia and terror. There are moments of sheer brilliance and exquisite perfection in this film; the horrifying maze chase is a perfect example. Every single shot is masterfully created and there are some genuinely scary scenes which will make you sit on the edge of your seat.The Shining is, in my opinion, a special landmark in horror cinema which will always be regarded as one of the scariest movies in film history. Since I saw it last year, when I was 13, I have rarely been able to have a bath in my bathtub.Just in case, ya know. Overall, The Shining is incomparably the scariest film I've ever seen in my whole life (and I can tell you I've seen a great deal of horror films).It is an unforgettable, chilling, majestic and truly, profoundly scary film crafted by an eccentric genius who wants to show that the impossible can be done. The Shining is a sublime, hauntingly intriguing and endlessly watchable film that shows Kubrick at his best.
There are two nearly undeniable truths about Stanley Kubrick's version of Stephen King's The Shining. Truth number one is that The Shining is an absolutely terrifying horror movie. One of the classics of the genre. The second truth is that Stephen King hates that movie with the fiery passion of 1,000 burning suns. King has made no secret that while many fans love that movie, he really thinks Kubrick missed everything great about his story. And this one thing, in particular. Stephen King's magnum opus The Dark Tower appears to be on a slow train toward actually becoming a reality, and thanks to this renewed interested in King's work, Deadline has published an older interview with the author that never saw the light of day when it was originally conducted. In the interview they discuss the numerous books that King has seen turned into films and in doing so he opens up about exactly what his problem was with Kubrick's vision. The character of Jack Torrance has no arc in that movie. Absolutely no arc at all. When we first see Jack Nicholson, he's in the office of Mr. Ullman, the manager of the hotel, and you know, then, he's crazy as a shit house rat. All he does is get crazier. In the book, he's a guy who's struggling with his sanity and finally loses it. To me, that's a tragedy. In the movie, there's no tragedy because there's no real change. King does recognize that, as a visual spectacle, the movie has some amazing aspects to it, but he calls it a "big beautiful Cadillac with no engine." In this case, the engine is that lack of character arc. In the film, Jack Torrance is not a sympathetic character. As King says, he's already crazy and he only goes crazier. In King's novel, one actually feels bad watching Jack go crazy because they know he's ultimately a good man. The reader fears what will happen to Jack, as well as his family. In Kubrick's The Shining, Jack Torrance is essentially Jason Voorhees, and the only question is whether his family will get out alive. While Stephen King is one of the film's detractors, many fans put The Shining among Stanley Kubrick's great works. It is a visually stunning and legitimately scary work of fiction. Taken by itself, without comparing it to it's source, there's little you can say is actually wrong with the movie that Kubrick made. Although, if there's any single person who would have the most trouble ignoring the source material, it's Stephen King, and we suppose we can give him a pass on that. What do you think? Is The Shining a great horror movie or a terrible adaptation? Or is it both at the same time? Let us know your thoughts below.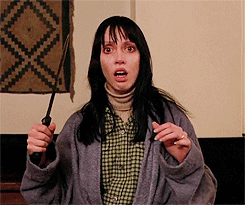 Diane is an American novelist who has published a number of extremely good novels which have received serious and important attention. I was interested in several of her books and in talking to her about them I was surprised to learn that she was giving a course at the University of California at Berkeley on the Gothic novel. When The Shining came up she seemed to be the ideal collaborator, which, indeed, she proved to be. I had already been working on the treatment of the book, prior to her starting, but I hadn't actually begun the screenplay. With "The Shining," the problem was to extract the essential plot and to re-invent the sections of the story that were weak. The characters needed to be developed a bit differently than they were in the novel. It is in the pruning down phase that the undoing of great novels usually occurs because so much of what is good about them has to do with the fineness of the writing, the insight of the author and often the density of the story. But The Shining was a different matter. Its virtues lay almost entirely in the plot, and it didn't prove to be very much of a problem to adapt it into the screenplay form. Diane and I talked a lot about the book and then we made an outline of the scenes we thought should be included in the film. This list of scenes was shuffled and reshuffled until we thought it was right, and then we began to write. We did several drafts of the screenplay, which was subsequently revised at different stages before and during shooting.
Before making The Shining, Stanley Kubrick had directed the 1975 film Barry Lyndon, a highly visual period film about an Irish man who attempts to make his way into the British aristocracy. Despite its technical achievements, the film was not a box office success in the United States and was derided by critics for being too long and too slow. Kubrick, disappointed with Barry Lyndon's lack of success, realized he needed to make a film that would be commercially viable as well as artistically fulfilling. Stephen King was told that Kubrick had his staff bring him stacks of horror books as he planted himself in his office to read them all: "Kubrick's secretary heard the sound of each book hitting the wall as the director flung it into a reject pile after reading the first few pages. Finally one day the secretary noticed it had been a while since she had heard the thud of another writer's work biting the dust. She walked in to check on her boss and found Kubrick deeply engrossed in reading The Shining."
Artist Juli Kearns first identified and created maps of spatial discrepancies in the overall layout of the Overlook Hotel location, the interiors of which were constructed in studios in England. These spatial discrepancies included windows appearing in impossible places, such as in Stuart Ullman's office which is surrounded by interior hallways, and apartment doorways positioned in places where they cannot possibly lead to apartments. Rob Ager is another proponent of this theory. Jan Harlan, an Executive Producer on The Shining, was asked about the discontinuity of sets by Xan Brooks of The Guardian and confirmed the discontinuity was intentional, "The set was very deliberately built to be offbeat and off the track, so that the huge ballroom would never actually fit inside. The audience is deliberately made not to know where they're going. People say The Shining doesn't make sense. Well spotted! It's a ghost movie. It's not supposed to make sense." Harlan further elaborated to Kate Abbot for the same newspaper, "Stephen King gave him the go-ahead to change his book, so Stanley agreed – and wrote a much more ambiguous script. It's clear instantly there's something foul going on. At the little hotel, everything is like Disney, all kitsch wood on the outside – but the interiors don't make sense. Those huge corridors and ballrooms couldn't fit inside. In fact, nothing makes sense."
King was also disappointed by Kubrick's decision not to film at The Stanley Hotel in Estes Park, Colorado, which inspired the story (a decision Kubrick made since the hotel lacked sufficient snow and electricity). However, King finally supervised the 1997 television adaptation also titled The Shining, filmed at The Stanley Hotel.
Kubrick attended William Howard Taft High School from 1941 to 1945. One of his classmates was Edith Gormezano, later known as the singer Eydie Gorme. Though he joined the school's photographic club, which permitted him to photograph the school's events in their magazine, he was a mediocre student, with a meager 67 grade average. Introverted and shy, Kubrick had a low attendance record, and often skipped school to watch double-feature films. He graduated in 1945, but his poor grades, combined with the demand for college admissions from soldiers returning from the Second World War, eliminated hope of higher education. Later in life, Kubrick spoke disdainfully of his education and of contemporary American schooling as a whole, maintaining that schools were ineffective in stimulating critical thinking and student interest. His father was disappointed in his son's failure to achieve excellence in school, of which he felt Stanley was fully capable. Jack also encouraged Stanley to read from the former's library at home, while at the same time permitting Stanley to take up photography as a serious hobby.
The Shining is about Jack Torrance (Jack Nicholson), an aspiring writer and recovering alcoholic, who accepts a position as the off-season caretaker of the isolated historic Overlook Hotel in the Colorado Rockies. Wintering over with Jack is his wife Wendy Torrance (Shelley Duvall) and young son Danny Torrance (Danny Lloyd), who possesses "the shining", an array of psychic abilities that allow Danny to see the hotel's horrific past. The hotel's current cook, Dick Hallorann (Scatman Crothers), also has this ability and is able to telepathically communicate with Danny. The hotel had a previous winter caretaker who went crazy and killed his wife, two daughters and then himself. After a winter storm leaves the Torrances snowbound, Jack's sanity deteriorates due to the influence of the supernatural forces that inhabit the hotel, placing his wife and son in danger. Supporting roles are provided by Barry Nelson, Philip Stone, Joe Turkel, Anne Jackson, and Tony Burton.
Unlike Kubrick's previous works, which developed audiences gradually through word-of-mouth, The Shining was released as a mass-market film, initially opening in two U.S. cities on Memorial Day, then nationwide within a month. The European release of The Shining a few months later was 25 minutes shorter due to Kubrick's removal of most of the scenes taking place outside the environs of the hotel.
The Shining was among the first half-dozen films (after the 1976 films Bound for Glory, Marathon Man, and Rocky), to use the newly developed Steadicam, a stabilizing mount for a motion picture camera, which mechanically separates the operator's movement from the camera's, allowing smooth tracking shots while the operator is moving over an uneven surface. It essentially combines the stabilized steady footage of a regular mount with the fluidity and flexibility of a handheld camera. The inventor of the Steadicam, Garrett Brown, was heavily involved with the production of The Shining. Brown has described his excitement taking his first tour of the sets which offered "further possibilities for the Steadicam". This tour convinced Brown to become personally involved with the production. Kubrick was not "just talking of stunt shots and staircases". Rather he would use the Steadicam "as it was intended to be used — as a tool which can help get the lens where it's wanted in space and time without the classic limitations of the dolly and crane". Brown used an 18 mm Cooke lens that allowed the Steadicam to pass within an inch of walls and door frames. Brown published an article in American Cinematographer about his experience, and contributed to the audio commentary on the 2007 DVD release.
DVDs in both regions contain a candid fly-on-the-wall 33-minute documentary made by Kubrick's daughter Vivian (who was 17 when she filmed it) entitled Making The Shining, originally shown on British television in 1980. She also provided an audio commentary track about her documentary for its DVD release. It appears even on pre-2007 editions of The Shining on DVD, although most DVDs of Kubrick films before then were devoid of documentaries or audio commentaries. It has some candid interviews and very private moments caught on set, such as arguments with cast and director, moments of a no-nonsense Kubrick directing his actors, Scatman Crothers being overwhelmed with emotion during his interview, Shelley Duvall collapsing from exhaustion on the set, and Jack Nicholson enjoying playing up to the behind-the-scenes camera.
King is, essentially, a novelist of morality. The decisions his characters make — whether it's to confront a pack of vampires or to break 10 years of sobriety — are what matter to him. But in Kubrick's The Shining, the characters are largely in the grip of forces beyond their control. It's a film in which domestic violence occurs, while King's novel is about domestic violence as a choice certain men make when they refuse to abandon a delusional, defensive entitlement. As King sees it, Kubrick treats his characters like "insects" because the director doesn't really consider them capable of shaping their own fates. Everything they do is subordinate to an overweening, irresistible force, which is Kubrick's highly developed aesthetic; they are its slaves. In King's "The Shining", the monster is Jack. In Kubrick's, the monster is Kubrick.
The Shining, released in 1980, was adapted from the novel of the same name by bestselling horror writer Stephen King. The Shining was not the only horror film to which Kubrick had been linked; he had turned down the directing of both The Exorcist and Exorcist II: The Heretic , despite once saying in 1966 to a friend that he had long desired to "make the world's scariest movie, involving a series of episodes that would play upon the nightmare fears of the audience". The film stars Jack Nicholson as a writer who takes a job as a winter caretaker of a large and isolated hotel in the Rocky Mountains. He spends the winter there with his wife, played by Shelley Duvall, and their young son, who displays paranormal abilities. During their stay, they confront both Jack's descent into madness and apparent supernatural horrors lurking in the hotel. Kubrick gave his actors freedom to extend the script, and even improvise on occasion, and as a result, Nicholson was responsible for the 'Here's Johnny!' line and scene in which he's sitting at the typewriter and unleashes his anger upon his wife. So determined to produce perfection was Kubrick, he often demanded up to 70 or 80 retakes of the same scene. Duvall, who Kubrick also intentionally isolated and argued with often, was forced to perform the iconic and exhausting baseball bat scene 127 times. Afterwards, Duvall presented Kubrick with clumps of hair that had fallen out due to the extreme stress of filming. The bar scene with the ghostly bartender was shot 36 times, while the kitchen scene between the characters of Danny (Danny Lloyd) and Halloran (Scatman Crothers) ran to 148 takes. The aerial shots of the Overlook Hotel were shot at Timberline Lodge on Mount Hood in Oregon, while the interiors of the hotel were shot at Elstree Studios in England between May 1978 and April 1979. Cardboard models were made of all of the sets of the film, and the lighting of them was a massive undertaking, which took four months of electrical wiring. Kubrick made extensive use of the newly invented Steadicam, a weight-balanced camera support, which allowed for smooth hand-held camera movement in scenes where a conventional camera track was impractical. According to Garrett Brown, Steadicam's inventor, it was the first picture to use its full potential.
Among Kubrick's notable innovations in cinematography are his use of special effects, as in 2001, where he used both slit-scan photography and front-screen projection, which won Kubrick his only Oscar for special effects. Some reviewers have described and illustrated with video clips, Kubrick's use of "one-point perspective", which leads the viewer's eye towards a central vanishing point. The technique relies on creating a complex visual symmetry using parallel lines in a scene which all converge on that single point, leading away from the viewer. Combined with camera motion it could produce an effect that one writer describes as "hypnotic and thrilling". The Shining was among the first half-dozen features to use the then-revolutionary Steadicam (after the 1976 films Bound for Glory, Marathon Man and Rocky). Kubrick used it to its fullest potential, which gave the audience smooth, stabilized, motion-tracking by the camera. Kubrick described Steadicam as being like a "magic carpet", allowing "fast, flowing, camera movements" in the maze in The Shining which otherwise would have been impossible.
Wells hopes that fans of Kubrick's work will take advantage of the opportunity to see "The Shining" on the big screen. "It's a film that pulls you in," he said. "When you hear people talk about 'The Shining' they always say the same thing, that it gets under your skin and that it gets into your head. Watching it in a cinema, where the size of the image is so much bigger, where the distractions are kept at bay, it's worth doing."
Tim Cahill of Rolling Stone noted in an interview with Kubrick that by 1987 there was already a "critical reevaluation of in process". As with most Kubrick films, more recent analyses have treated the film more favorably. Viewers subsequently decided the slow pacing actually contributes to the film's hypnotic quality. Film website Rotten Tomatoes, which compiles reviews from a wide range of critics, gave the film a 'Certified Fresh' score of 87% based on 70 reviews with an average rating of 8.4/10, with the consensus; "Though it deviates from Stephen King's novel, Stanley Kubrick's The Shining is a chilling, often baroque journey into madness -- exemplified by an unforgettable turn from Jack Nicholson".
Cocks' work has been anthologized and discussed in other works on Stanley Kubrick films, but sometimes with skepticism. In particular, Julian Rice writing in the opening chapter of his book Kubrick's Hope believes Cocks' views are excessively speculative and contain too many strained "critical leaps" of faith. Rice holds that what went on in Kubrick's mind cannot be replicated or corroborated beyond a broad vision of the nature of good and evil (which included concern about the Holocaust), but Kubrick's art is not governed by this one single obsession. Diane Johnson, co-screenwriter for The Shining, commented on Cocks' observations and holds that preoccupation with the Jewish Holocaust on Kubrick's part could very likely have motivated his decision to place the hotel on a Native American burial ground, although Kubrick never directly mentioned it to her.
Kubrick was born in the Lying-In Hospital at 307 Second Avenue in Manhattan, New York City, to a Jewish family. He was the first of two children of Jacob Leonard Kubrick (May 21, 1902 – October 19, 1985), known as Jack or Jacques, and his wife Sadie Gertrude Kubrick (née Perveler; October 28, 1903 – April 23, 1985), known as Gert. His sister, Barbara Mary Kubrick, was born in May 1934. Jack Kubrick, whose parents and paternal grandparents were of Polish Jewish, Austrian Jewish, and Romanian Jewish origin, was a doctor, graduating from the New York Homeopathic Medical College in 1927, the same year he married Kubrick's mother, the child of Austrian Jewish immigrants. Kubrick's great-grandfather, Hersh Kubrick (also spelled Kubrik or Kubrike), arrived at Ellis Island via Liverpool by ship on December 27, 1899, at the age of 47, leaving behind his wife and two grown children, one of whom was Stanley's grandfather Elias, to start a new life with a younger woman. Elias Kubrick followed in 1902. At Stanley's birth, the Kubricks lived in an apartment at 2160 Clinton Avenue in the Bronx. Although his parents had been married in a Jewish ceremony, Kubrick did not have a religious upbringing, and would later profess an atheistic view of the universe. By the district standards of the West Bronx, the family was fairly wealthy, his father earning a good income as a physician.
Although Spielberg was able to function autonomously in Kubrick's absence, he said he felt "inhibited to honor him", and followed Kubrick's visual schema with as much fidelity as he could, according to author Joseph McBride. Spielberg, who once referred to Kubrick as "the greatest master I ever served", now with production underway, admitted, "I felt like I was being coached by a ghost." The film was released in June 2001. It contains a posthumous production credit for Stanley Kubrick at the beginning and the brief dedication "For Stanley Kubrick" at the end. John Williams's score contains many allusions to pieces heard in other Kubrick films.
The family arrives at the hotel on closing day and is given a tour. The chef, Dick Hallorann, surprises Danny by telepathically offering him ice cream. Dick explains to Danny that he and his grandmother shared this telepathic ability, which he calls "shining". Danny asks if there is anything to be afraid of in the hotel, particularly room 237. Hallorann tells Danny that the hotel has a "shine" to it along with many memories, not all of which are good. He also tells Danny to stay away from room 237.
The Shining had a prolonged and arduous production period, often with very long workdays. Principal photography took over a year to complete, due to Kubrick's highly methodical nature. Actress Shelley Duvall did not get along with Kubrick, frequently arguing with him on set about lines in the script, her acting techniques and numerous other things. Duvall eventually became so overwhelmed by the stress of her role that she became physically ill for months. At one point, she was under so much stress that her hair began to fall out. The shooting script was being changed constantly, sometimes several times a day, adding more stress. Jack Nicholson eventually became so frustrated with the ever-changing script that he would throw away the copies that the production team would give to him to memorize, knowing that it was just going to change anyway. He learned most of his lines just minutes before filming them. Nicholson was living in London with his then-girlfriend Anjelica Huston and her younger sister, Allegra, who testified to his long shooting days. Joe Turkel stated in a 2014 interview that they rehearsed the "bar scene" for six weeks, and that the shoot day lasted from 9 a.m. to 10:30 p.m., with Turkel recollecting that his clothes were soaked in his own sweat by the end of the day's shoot. He also added that it was his favorite scene in the film.
Parts of the film are chilling, charged with a relentlessly claustrophobic terror, but others fall flat. Not that religion has to be involved in horror, but a visceral skeptic such as Kubrick just couldn't grasp the sheer inhuman evil of The Overlook Hotel. So he looked, instead, for evil in the characters and made the film into a domestic tragedy with only vaguely supernatural overtones. That was the basic flaw: because he couldn't believe, he couldn't make the film believable to others. What's basically wrong with Kubrick's version of The Shining is that it's a film by a man who thinks too much and feels too little; and that's why, for all its virtuoso effects, it never gets you by the throat and hangs on the way real horror should.
The room number 217 has been changed to 237. Timberline Lodge, located on Mt. Hood in Oregon, was used for the exterior shots of the fictional Overlook Hotel. The Lodge requested that Kubrick not depict Room 217 (featured in the book) in The Shining, because future guests at the Lodge might be afraid to stay there, and a nonexistent room, 237, was substituted in the film. Contrary to the hotel's expectations, Room 217 is requested more often than any other room at Timberline.
Danny Torrance is considerably more open about his supernatural abilities in the novel, discussing them with strangers such as his doctor. In the film, he is quite secretive about them even with his prime mentor Dick Hallorann, who also has these abilities. (The same is true of Dick Hallorann, who in his journey back to the Overlook in the book, talks with others with the "shining" ability, while in the film he lies about his reason for returning to the Overlook.) Danny in the novel is generally portrayed as unusually intelligent across the board. In the film, he is more ordinary, though with a preternatural gift. In the novel, Danny is much more bonded to his father than in the film.
Although Danny has supernatural powers in both versions, the novel makes it clear that his apparent imaginary friend "Tony" really is a projection of hidden parts of his own psyche, though heavily amplified by Danny's psychic "shining" abilities. At the end it is revealed that Danny Torrance's middle name is "Anthony".
Both parodies and homages to The Shining are prominent in UK and U.S. popular culture, particularly in films, TV shows, video games and music. Images and scenes frequently referenced are: the Grady girls in the hallway, the word "Redrum", the blood spilling out of the elevator doors and Jack sticking his head through the hole in the bathroom door, saying, "Here's Johnny." The tricycle scene in which Danny sees the Grady girls and the "here's Johnny" scene are seen on a drive-in theatre screen in the movie Twister just before a tornado rips the screen down.
Five episodes of the drama Gilmore Girls reference the film. One episode contains Lorelai's line "Well, we like our Internet slow, okay? We can turn it on, walk around, dance, make a sandwich. With DSL, there's no dancing, no walking, and we'd starve. It'd be all work and no play. Have you not seen The Shining, Mom?"
Showrunner Vince Gilligan, being a fan of Kubrick and his "non-submersible moments", has included references to Kubrick movies in many of his works. "I'm happy to see that his inspiration has shown in noticeable ways in our work in Breaking Bad and Better Call Saul," says Gilligan. Breaking Bad's episode "Sunset" has a cop radioing for assistance and begins, "KDK-12" — the radio address at the Overlook, before being axed. The axe-murdered Grady twins in The Shining are turned into the axe-murdering Salamanca twins in Breaking Bad. The descent of the main character, school teacher Walt, into the dark killer has some similarities to Jack's arc. Reflections are used in both to show the characters change. Better Call Saul has a "Here's Johnny" scare in a flashback. Gilligan has also likened his early writing situation, getting snowed in and not writing, to feeling like Jack while going insane.
Signing a contract, Jack Torrance, a normal writer and former teacher agrees to take care of a hotel which has a long, violent past that puts everyone in the hotel in a nervous situation. While Jack slowly gets more violent and angry of his life, his son, Danny, tries to use a special talent, the "Shining", to inform the people outside about whatever that is going on in the hotel. Written by J. S. Golden
A demanding perfectionist, Kubrick assumed control over most aspects of the filmmaking process, from direction and writing to editing, and took painstaking care with researching his films and staging scenes, working in close coordination with his actors and other collaborators. He often asked for several dozen retakes of the same scene in a movie, which resulted in many conflicts with his casts. Despite the resulting notoriety among actors, many of Kubrick's films broke new ground in cinematography. The scientific realism and innovative special effects of 2001: A Space Odyssey were without precedent in the history of cinema, and the film earned him his only personal Oscar, for Best Visual Effects. Steven Spielberg has referred to the film as his generation's "big bang", and it is regarded as one of the greatest films ever made. For the 18th-century period film Barry Lyndon , Kubrick obtained lenses developed by Zeiss for NASA, to film scenes under natural candlelight. With The Shining , he became one of the first directors to make use of a Steadicam for stabilized and fluid tracking shots. While many of Kubrick's films were controversial and initially received mixed reviews upon release—particularly A Clockwork Orange , which Kubrick pulled from circulation in the UK following a mass media frenzy—most were nominated for Oscars, Golden Globes, or BAFTA Awards, and underwent critical reevaluations. His last film, Eyes Wide Shut, was completed shortly before his death in 1999 at the age of 70.
Walker notes that Kubrick was influenced by the tracking and "fluid camera" styles of director Max Ophüls, and used them in many of his films, including Paths of Glory and 2001: A Space Odyssey. Kubrick noted how in Ophuls' films "the camera went through every wall and every floor". He once named Ophüls' Le Plaisir as his favorite film. According to film historian John Wakeman, Ophüls himself learned the technique from director Anatole Litvak in the 1930s, when he was his assistant, and whose work was "replete with the camera trackings, pans and swoops which later became the trademark of Max Ophüls". Geoffrey Cocks believes that Kubrick was also influenced by Ophüls' stories of thwarted love and a preoccupation with predatory men, while Herr notes that Kubrick was deeply inspired by G. W. Pabst, who earlier tried, but was unable to adapt Schnitzler's Traumnovelle, the basis of Eyes Wide Shut. Film critic Robert Kolker sees the influence of Welles' moving camera shots on Kubrick's style. LoBrutto notes that Kubrick identified with Welles and influenced the making of The Killing, with its "multiple points of view, extreme angles, and deep focus". Kubrick also cited David Lynch's Eraserhead as one of his favorite films and used it as a creative reference during the directing of The Shining.
Diane Johnson, who co-wrote the screenplay for The Shining with Kubrick, notes that he "always said that it was better to adapt a book rather than write an original screenplay, and that you should choose a work that isn't a masterpiece so you can improve on it. Which is what he's always done, except with Lolita". When deciding on a subject for a film, there were a number of aspects that he looked for, and he always made films which would "appeal to every sort of viewer, whatever their expectation of film". According to his co-producer Jan Harlan, Kubrick mostly "wanted to make films about things that mattered, that not only had form, but substance". Kubrick himself believed that audiences quite often were attracted to "enigmas and allegories" and did not like films in which everything was spelled out clearly.
Kubrick is credited with introducing Hungarian composer György Ligeti to a broad Western audience by including his music in 2001, The Shining and Eyes Wide Shut. According to Baxter, the music in 2001 was "at the forefront of Kubrick's mind" when he conceived the film. During earlier screening he played music by Mendelssohn and Vaughan Williams, and Kubrick and writer Clarke had listened to Carl Orff's transcription of Carmina Burana, consisting of 13th century sacred and secular songs. Ligeti's music employed the new style of micropolyphony, which used sustained dissonant chords that shift slowly over time, a style he originated. Its inclusion in the film became a "boon for the relatively unknown composer" partly because it was introduced alongside background by notable composers, Johann Strauss and Richard Strauss.
Stephen Crane wrote a story called "The Blue Hotel." In it you quickly learn that the central character is a paranoid. He gets involved in a poker game, decides someone is cheating him, makes an accusation, starts a fight and gets killed. You think the point of the story is that his death was inevitable because a paranoid poker player would ultimately get involved in a fatal gunfight. But, in the end, you find out that the man he accused was actually cheating him. I think The Shining uses a similar kind of psychological misdirection to forestall the realization that the supernatural events are actually happening.
When you shoot these scenes which you find theatrical, you do it in a way that emphasizes their ordinariness. The scenes with Ullman or the visit of the doctor in The Shining, like the conference with the astronauts in 2001, are characterized by their social conventions, their mechanical aspect.
Yes, I did. I believe that Jack is one of the best actors in Hollywood, perhaps on a par with the greatest stars of the past like Spencer Tracy and Jimmy Cagney. I should think that he is on almost everyone's first-choice list for any role which suits him. His work is always interesting, clearly conceived and has the X-factor, magic. Jack is particularly suited for roles which require intelligence. He is an intelligent and literate man, and these are qualities almost impossible to act. In The Shining, you believe he's a writer, failed or otherwise.
Yes, it did. It was only with the greatest difficulty that Shelley was able to create and sustain for the length of the scene an authentic sense of hysteria. It took her a long time to achieve this and when she did we didn't shoot the scene too many times. I think there were five takes favouring Shelley, and only the last two were really good. When I have to shoot a very large number of takes it's invariably because the actors don't know their lines, or don't know them well enough. An actor can only do one thing at a time, and when he has learned his lines only well enough to say them while he's thinking about them, he will always have trouble as soon as he has to work on the emotions of the scene or find camera marks. In a strong emotional scene, it is always best to be able to shoot in complete takes to allow the actor a continuity of emotion, and it is rare for most actors to reach their peak more than once or twice. There are, occasionally, scenes which benefit from extra takes, but even then, I'm not sure that the early takes aren't just glorified rehearsals with the added adrenalin of film running through the camera. In The Shining, the scene in the ballroom where Jack talks to Lloyd, the sinister apparition of a former bartender, belongs to this category. Jack's performance here is incredibly intricate, with sudden changes of thought and mood -- all grace notes. It's a very difficult scene to do because the emotion flow is so mercurial. It demands knife-edged changes of direction and a tremendous concentration to keep things sharp and economical. In this particular scene Jack produced his best takes near the highest numbers.
Because the sets were fairly cheap to build and the script let you spend a good chunk of time in each of them. Also, at that time, it was much more difficult to shoot in location interiors. There were no neck mikes or radio transmitters, and the cameras were big and the film slow. Things have changed a lot since then. But I remember having an argument at the time with a cameraman who refused to shoot a scene with a 25mm lens, insisting that the lens was too wide-angled to pan or move the camera without distorting everything. Today, people think of a 25mm almost as a normal lens, and a wide-angle lens goes down to 9.8mm, which gives you about a 90x horizontal viewing angle. The Shining could not have had the same lighting if it had been filmed on location, and because of the snow effects it would have been extremely impractical to do it that way. We would have been far too much of a nuisance in a real hotel, and in the case of those which were shut in the winter, they were closed because they really were inaccessible.
"The Shining" fans may want to save their money for what is probably the most lucrative item being sold: A rare cut of the iconic horror film featuring a deleted scene never released. According to the listing, D'Alessandr's cut features a scene in which Shelley DuVall's Wendy carries her son Danny (Danny Lloyd) that's incredibly rare because Kubrick "notoriously burned all the leftover footage at the conclusion of editing." The price is estimated at $3,700.
In 1952, Kubrick worked as the second unit director on one episode of the television series Omnibus. But it was a different episode, about poker players getting into a fight, that inspired parts of The Shining.
According to Kubrick, "You think the point of the story is that his death was inevitable because a paranoid poker player would ultimately get involved in a fatal gunfight. But, in the end, you find out that the man he accused was actually cheating him. I think The Shining uses a similar kind of psychological misdirection to forestall the realization that the supernatural events are actually happening."
According to one of Kubrick's biographers, David Hughes, King wrote an entire draft of a screenplay for The Shining. Kubrick didn't even deem it worth a glance, which makes sense as he once called King's writing "weak." Instead, Kubrick worked with Diane Johnson on the screenplay because he was a fan of her book, The Shadow Knows. The two ended up spending eleven weeks working on the script.
The executive producer of the film was Kubrick's brother-in-law, Jan Harlan. Christiane Kubrick and Vivian Kubrick, his wife and daughter respectively, helped with both the design and the music—though Vivian might be more well-known for the on-set documentary that she made titled, The Making Of The Shining. The 30-minute film, which aired on the BBC, was a very rare look into Kubrick's directing styles. You can watch it above.
Jack Nicholson is responsible for the only line from The Shining to make it onto AFI's Top 100 Movie Quotes. While filming the scene in which Jack breaks down a bathroom door with an axe, Nicholson shouted out the famous Ed McMahon line from The Tonight Show Starring Johnny Carson. The catch phrase worked and stayed in the film. Some behind-the-scenes footage, which can be seen here, shows Nicholson's method acting before filming the iconic scene.
Observant Shining fan Rob Ager noticed that there are many aspects to the set of The Overlook Hotel that make no sense. For example, Ullman's office has a window to outside, but there are rooms surrounding the office, making that window impossible. This is the case for many of the windows in the film—they don't work in context. There is also a hallway in the Colorado Lounge that essentially appears out of nowhere. Ager created a video in which he maps out the nonsensical visuals.
The executive producer of The Shining, Jan Harlan, has stated that this was intentional. "The interiors don't make sense," he said in 2012. "Those huge corridors and ballrooms couldn't fit inside. In fact, nothing makes sense."
And that was just for the final scene! At the end of The Shining, Jack chases young Danny through a snow-covered hedge maze before finally dying. To create the elaborate, wintery maze, it took a lot of salt and crushed Styrofoam.
Unkrich runs The Overlook Hotel, which contains tons of pictures and behind-the-scenes information about the film. "I started the site purely for selfish reasons," he said. "I've been collecting stuff from The Shining over the years, and I just wanted to have one place where they could be organized." Unkrich was also one of the people who helped fund the Room 237 documentary.
The novel presents Jack as initially likable and well-intentioned but haunted by the demons of alcohol and authority issues. Nonetheless, he becomes gradually overwhelmed by the evil forces in the hotel. At the novel's conclusion, the hotel forces have possessed Jack's body and proceed to destroy all that is left of his mind during a final showdown with Danny, leaving a monstrous entity that Danny is able to divert while he, Wendy and Dick Hallorann escape. The film's Jack is established as somewhat sinister much earlier in the story and dies in a different manner. Jack actually kills Dick Hallorann in the film, but only wounds him in the novel. King attempted to talk Stanley Kubrick out of casting Jack Nicholson even before filming began, on the grounds that he seemed vaguely sinister from the very beginning of the film, and had suggested Jon Voight among others for the role.
Stanley Kubrick (/ˈkuːbrɪk/; July 26, 1928 – March 7, 1999) was an American film director, screenwriter, and producer. He is frequently cited as one of the greatest and most influential directors in cinematic history. His films, which are mostly adaptations of novels or short stories, cover a wide range of genres, and are noted for their realism, dark humor, unique cinematography, extensive set designs, and evocative use of music.
In 1946, he became an apprentice photographer for Look and later a full-time staff photographer. G. Warren Schloat, Jr., another new photographer for the magazine at the time, recalled that he thought Kubrick lacked the personality to make it as a director in Hollywood, remarking, "Stanley was a quiet fellow. He didn't say much. He was thin, skinny, and kind of poor—like we all were". Kubrick quickly became known, however, for his story-telling in photographs. His first, published on April 16, 1946, was entitled "A Short Story from a Movie Balcony" and staged a fracas between a man and a woman, during which the man is slapped in the face, caught genuinely by surprise. In another assignment, 18 pictures were taken of various people waiting in a dental office. It has been said retrospectively that this project demonstrated an early interest of Kubrick in capturing individuals and their feelings in mundane environments. In 1948, he was sent to Portugal to document a travel piece, and covered the Ringling Bros. and Barnum & Bailey Circus in Sarasota, Florida. Kubrick, a boxing enthusiast, eventually began photographing boxing matches for the magazine. His earliest, "Prizefighter", was published on January 18, 1949, and captured a boxing match and the events leading up to it, featuring Walter Cartier. On April 2, 1949, he published a photo essay, named "Chicago-City of Extremes" in Look, which displayed his talent early on for creating atmosphere with imagery, including a photograph taken above a congested Chicago street at night. The following year, on July 18, 1950, the magazine published his photo essay, "Working Debutante - Betsy von Furstenberg", which featured a Pablo Picasso portrait of Angel F. de Soto in the background. Kubrick was also assigned to photograph numerous jazz musicians, from Frank Sinatra and Erroll Garner to George Lewis, Eddie Condon, Phil Napoleon, Papa Celestin, Alphonse Picou, Muggsy Spanier, Sharkey Bonano, and others.
Marlon Brando contacted Kubrick, asking him to direct a film adaptation of the Charles Neider western novel, The Authentic Death of Hendry Jones, featuring Pat Garrett and Billy the Kid. Brando was impressed, saying that "Stanley is unusually perceptive, and delicately attuned to people. He has an adroit intellect, and is a creative thinker—not a repeater, not a fact-gatherer. He digests what he learns and brings to a new project an original point of view and a reserved passion". The two worked on a script for six months, begun by a then unknown Sam Peckinpah. Many disputes broke out over the project, and in the end, Kubrick distanced himself from what would become One-Eyed Jacks .
Because of its depiction of teenage violence, A Clockwork Orange became one of the most controversial films of the decade, and part of an ongoing debate about violence and its glorification in cinema. It received an X-rated certificate upon release, just before Christmas in 1971, though many critics saw much of the violence depicted in the film as satirical, and less violent than Straw Dogs, which had been released a month earlier. Kubrick personally pulled the film from release in the United Kingdom after receiving death threats following a series of copycat crimes based on the film; it was thus completely unavailable legally in the UK until after Kubrick's death, and not re-released until 2000. John Trevelyan, the censor of the film, personally considered A Clockwork Orange to be "perhaps the most brilliant piece of cinematic art I've ever seen, and believed it to present an "intellectual argument rather than a sadistic spectacle" in its depiction of violence, but acknowledged that many would not agree. Negative media hype over the film notwithstanding, A Clockwork Orange received four Academy Award nominations, for Best Picture, Best Director, Best Screenplay and Best Editing, and was named by the New York Film Critics Circle as the Best Film of 1971. After William Friedkin won Best Director for The French Connection that year, he told the press: "Speaking personally, I think Stanley Kubrick is the best American film-maker of the year. In fact, not just this year, but the best, period".
According to critic Michel Ciment, the film contained some of Kubrick's trademark characteristics, such as his selection of ironic music, portrayals of men being dehumanized, and attention to extreme detail to achieve realism. In a later scene, United States Marines patrol the ruins of an abandoned and destroyed city singing the theme song to the Mickey Mouse Club as a sardonic counterpoint. The film opened strongly in June 1987, taking over $30 million in the first 50 days alone, but critically it was overshadowed by the success of Oliver Stone's Platoon, released a year earlier. According to one review, notes co-star Matthew Modine, "The first half of FMJ is brilliant. Then the film degenerates into a masterpiece." Roger Ebert was not particularly impressed with it, awarding it a mediocre 2.5 out of 4. He concluded: "Stanley Kubrick's Full Metal Jacket is more like a book of short stories than a novel", a "strangely shapeless film from the man whose work usually imposes a ferociously consistent vision on his material".
Kubrick drafted a screenplay in 1961, and envisaged making a "grandiose" epic, with up to 40,000 infantry and 10,000 cavalry. He had intended hiring the armed forces of an entire country to make the film, as he considered Napoleonic battles to be "so beautiful, like vast lethal ballets", with an "aesthetic brilliance that doesn't require a military mind to appreciate". He wanted them to be replicated as authentically as possible on screen. Kubrick had sent research teams to scout for locations across Europe, and commissioned screenwriter and director Andrew Birkin, one of his young assistants on 2001, to the Isle of Elba, Austerlitz, and Waterloo, taking thousands of pictures for his later perusal. Kubrick approached numerous stars to play leading roles, including Audrey Hepburn for Empress Josephine, a part which she could not accept due to semiretirement. British actors David Hemmings and Ian Holm were considered for the lead role of Napoleon, before Jack Nicholson was cast. The film was well into preproduction and ready to begin filming in 1969 when MGM cancelled the project. Numerous reasons have been cited for the abandonment of the project, including its projected cost, a change of ownership at MGM, and the poor reception the 1970 Soviet film about Napoleon, Waterloo, received. In 2011, Taschen published the book, Stanley Kubrick's Napoleon: The Greatest Movie Never Made, a large volume compilation of literature and source documents from Kubrick, such as scene photo ideas and copies of letters Kubrick wrote and received. In March 2013, Steven Spielberg, who previously collaborated with Kubrick on A.I. Artificial Intelligence and is a passionate admirer of his work, announced that he would be developing Napoleon as a TV miniseries based on Kubrick's original screenplay.
Kubrick's family and many critics felt that his Jewish ancestry may have contributed to his worldview and aspects of his films. After his death, both his daughter and wife stated that although he was not religious, "he did not deny his Jewishness, not at all". His daughter noted that he wanted to make a film about the Holocaust, the Aryan Papers, having spent years researching the subject. Most of Kubrick's friends and early photography and film collaborators were Jewish, and his first two marriages were to daughters of recent Jewish immigrants from Europe. British screenwriter Frederic Raphael, who worked closely with Kubrick in his final years, believes that the originality of Kubrick's films was partly because he "had a (Jewish?) respect for scholars". He declared that it was "absurd to try to understand Stanley Kubrick without reckoning on Jewishness as a fundamental aspect of his mentality".
As a person, Kubrick was described by Norman Lloyd as "a very dark, sort of a glowering type who was very serious". Marisa Berenson, who starred in Barry Lyndon fondly recalled: "There was great tenderness in him and he was passionate about his work. What was striking was his enormous intelligence, but he also had a great sense of humor. He was a very shy person and self-protective, but he was filled with the thing that drove him twenty-four hours of the day." Kubrick was particularly fond of machines and technical equipment, to the point that his wife Christiane once stated that "Stanley would be happy with eight tape recorders and one pair of pants". Although Kubrick had obtained a pilot's license in August 1947, some have claimed that he later developed a fear of flying, stemming from an incident in the early 1950s when a colleague had been killed in a plane crash. Kubrick had been sent the charred remains of his camera and notebooks which, according to Duncan, traumatized him for life. Kubrick also had a strong mistrust of doctors and medicine, especially those he did not know, and on one occasion he had a dentist from the Bronx flown to London to treat him.
Kubrick continues to be cited as a major influence by many directors, including Christopher Nolan, Todd Field, David Fincher, Guillermo del Toro, David Lynch, Lars von Trier, Tim Burton, Michael Mann, and Gaspar Noé. Many filmmakers imitate Kubrick's inventive and unique use of camera movement and framing, as well as his use of music, notably Frank Darabont. Paul Thomas Anderson, in an interview with Entertainment Weekly, stated, "it's so hard to do anything that doesn't owe some kind of debt to what Stanley Kubrick did with music in movies. Inevitably, you're going to end up doing something that he's probably already done before. It can all seem like we're falling behind whatever he came up with."
Kubrick is widely referenced in popular culture, and the TV series The Simpsons is said to contain more references to Kubrick films than any other pop culture phenomenon. When the Directors Guild of Great Britain gave Kubrick a lifetime achievement award, they included a cut-together sequence of all the homages from the show. Pop singer Lady Gaga's concert shows have included the use of dialogue, costumes, and music from A Clockwork Orange. Several films have been made related to Kubrick's life, including the mockumentary film Dark Side of the Moon , which is a parody of the pervasive conspiracy theory that Kubrick had been involved with the faked footage of the NASA moon landings during the filming of 2001: A Space Odyssey, and Colour Me Kubrick , starring John Malkovich as Alan Conway, a con artist who had assumed Kubrick's identity in the 1990s. Both films were authorized by Kubrick's family. In the 2004 film The Life and Death of Peter Sellers, Kubrick was portrayed by Stanley Tucci, and documents their filming of Dr. Strangelove, rather than Lolita.
This is a legendary story that King apparently still tells at some book readings. Stanley Kubrick called him at seven in the morning to ask, "I think stories of the supernatural are fundamentally optimistic, don't you? If there are ghosts then that means we survive death." When King responded with the question of how hell fit into that picture, Kubrick simply responded, "I don't believe in hell."
Though he had a good relationship with Nicholson, Kubrick was notoriously brutal on Shelley Duvall during filming. In her words, "From May until October I was really in and out of ill health because the stress of the role was so great. Stanley pushed me and prodded me further than I've ever been pushed before. It's the most difficult role I've ever had to play." The scene in which Wendy is swinging a bat at Jack is an example of this pushing. The scene actually made it into The Guinness Book of Records because it took 127 takes, the most for a scene with spoken dialogue.
Word Count: 9219